INTERNATIONAL SILO ASSOCIATION
110 YEARS SERVING THE TOWER SILO INDUSTRY
SPECIALISTS IN:
FEED STORAGE
FEED HANDLING
FEED AUTOMATION
Past
The Concrete Tower Silo first made its appearance in 1893. This wonderful storage vehicle was instrumental in the past for feed storage because the concept of using gravity for compaction works best, and still works best today. Nothing else works quite like a Tower Silo.
Present
Science and Engineering has transformed the dairy farm of today. It produces more milk with fewer cows than ever before. A Tower Silo used as part of this process insures consistent quality feed as part of a premium ration mix engineered to promote maximum milk yield and good herd health. Nothing else works quite like a Tower Silo.
Future
The future of the dairy farm can be summed up in one word: Automation. Combined with science and engineering, the automated farm of the future will automatically feed, milk, clean and in some cases – be energy independent. The Tower Silo will be an intrinsic part of this process. Nothing else works quite like a Tower Silo. City View Dairy - Marshfield, WI
We like the quality of feed that comes out of them - it is really good and we don't have feed spoilage. It only takes two people to fill them, which helps in keeping a lower number of employees and saves money.
Bruce & Kristine Seehafer
,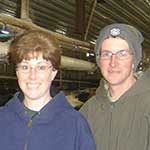 Sugar Maple Dairy, Luxemburg, WI
"Silos cost more money up front but they sure pay for themselves down the road," said Rod. "We save money and labor in filling the silos because we only have four engines running instead of six used with bunkers. We definitely appreciate the convenience of having all our feed inside and not having to struggle outside during the wet, cold and snowy weather". Using the tower silos have enabled the Zellner's to save time, energy and money while establishing a healthier herd with better milk production. Drycreek Farm
Commitment and hard work have kept "Drycreek Farm" going and that is what will carry it into the future, and the future is where Doug and his family are looking. Strategically placing silos and buildings is just one of the ways the family is combining their past experience with present technologies to carry the farm into a fourth generation.
FROM THE TOWER SILOS OF THE PAST IN ANCIENT EGYPT AND GREECE TO THE TOWER SILOS OF THE PRESENT ALL ACROSS NORTH AMERICA AND FOR ALL THE TOWER SILOS OF THE FUTURE THAT ARE NOW, AND WILL BE LABOR AND ENERGY EFFICIENT AND ENVIORNMENTALLY FRIENDLY BECAUSE: "NOTHING WORKS (FOR YOU) LIKE A TOWER SILO!"